---
This story published 1/23/98
Written by Ursula Grosser Dixon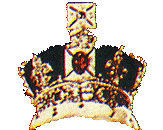 Ursula's History Web
After the creation of his Crystal Palace Exhibition, the Queen's consort, Prince Albert, was soon busy again with creating a new home. Two visits to Scotland had convinced Victoria to have a house in the Highlands. In 1848 she had taken a lease on Balmoral, a small castle on the river Dee. It was not large enough for a growing family, as well as members of the household and the Ministers in attendance. But the Queen loved its location which afforded her family privacy. Prince Albert loved deerstalking, and often Victoria would go out with him. They had made friends with the charming gillies who accompanied them, and a man named John Brown had become prince Albert's favorite gillie. The Prince even tried to learn Gaelic, but found it too difficult.
After four years the Queen bought the estate of Balmoral, and Prince Albert made his plans for expensions. In 1855, built of granite, the new castle was completed. The interior had many tartan motifs, and everywhere one could see symbols of Scotland in honor of the Queen's ancestry. Balmoral would become her " dear paradise, all dear Albert's own creations."
In 1861 Prince Albert went to Ireland to see the Prince of Wales, who was with the Grenadier guards at Curragh camp. He was told by his father of the matrimonial plans which were being devised for him. It would be arranged that he would meet Princess Alexandra of Denmark during a visit to the continent. She eventually became The Princess of Wales.
Again the Court went to Balmoral. John Brown was now the Queen's factotum. He waited at table, led her pony and as the Queen wrote to her uncle Leopold " combined the offices of groom, footman, page and maid, as he is so handy with cloaks and shawls." Up to now he had only attented the Queen at Balmoral, but now he joined her at Windsor as well.
After the dreadful event of the death of her beloved husband, the Queen felt a special connection to John Brown, because Albert had liked him so much. He had been often chosen by the Prince to look after the Queen's safety. When the widowed sovereign traveled to Germany in the summer of 1862 and decided to take her own pony chaise, Brown was put in charge of it. When in the following year she suffered several carriage mishaps, it was Brown who saved the Queen from serious injury. During the winter of 1864, her physician Dr. Jenner wanted the Queen to keep riding. Victoria protested that a strange groom would not do. John Brown was sent for to lead the Queen's pony, Flora. In February 1865 Victoria wrote in her journal that Brown would remain permanently with her as " he is so dependable." As the Queen's Highland Servant he would take orders only from her. In a letter to her daughter Vicky in Berlin, the Crown Princess of Prussia, she wrote " He comes to my room after breakfast and luncheon to get his orders, and everything is always right; he is quiet, has an exellent memory, and besides is so devoted. He is a real treasure to me. It is an excellent arrangement, and I feel I have a good and devoted soul in the house, whose only interest is my welfare. God knows how much I want to be taken care of. "

In the words of the esteemed author Stanley Weintraub, who wrote the exellent biography "Victoria" exactly how much she was taken care of became the subject of intense and widespread gossip in 1865. Much of it was the result of Edwin Landseer's painting of the Queen on her horse, led by John Brown. He circulated the stories that the Queen had taken fancy to a certain servant, by name Brown: will have no one else to wait upon her, makes him drive her out alone in a pony carriage, gives orders through him to the esquerries, allows him access to her such as no one else has.
"The affair had become a joke throughout Windsor, where Her Majesty is talked of as 'Mrs. Brown' and if this keeps up, it will grow into a scandal." Lord Stanley wondered how much longer the subject could be kept out of the newspapers. "The man is admitted to her confidence in a way no one else is, and orders are sent through him to persons of high rank, which alone will create jealousy. The Queen is not on good terms with any of her family, so it is impossible to warn her of what is being said about her."

In December 1865, Brown accompanied the Queen and her daughters to the Mauseleum at Frogmore, where she paid her respects on the fourth anniversary of her husband's death. Later John Brown came to her room for his orders, when the Queen saw tears rolling down his cheeks. " I didn't like to see ye at Frogmore this morning. I felt for ye, to see ye coming there with ye daughters and your husband lying there. No, I didn't like to see it; I felt sorry for ye---ye who had been so happy. There is no more pleasure for ye, poor Queen."
Servants were confiding information to Brown, because they knew that the Highlander's recommendation for a job or promotion meant more than that of princes. Ceremony meant little to him where the Queen's interests were concerned. At one time he told the Prince of Wales, overheard by servants, " Ye'll no'see your Royal mither till five o'clock." Most likely the courtiers tried to dislodge Brown from Windsor and have him returned to Balmoral. Since the Scot had the job of carrying messages to and from the Queen, they probably tried to work him to exhaustion, hoping he would ask for reassignment. The Queen pleaded with the Master of the Household, "that my poor Brown has so much to do that it wd be a gt relief if the Esquerries did receive a hint not to be constantly sending for him at all hours for trifling messages: he is often so tired from being constantly on his legs that he goes to bed with swollen feet and then can't sleep from fatigue!" She added, "it must be put a stop to...."
The Queen announced she would attend a military review in Hyde Park in July 1867 and would be attended by Brown (in his usual kilt) After her Ministers discussed the probability of further gossip in the press about the conspicuous Highlander, the Queen who found put about the objections to Brown's presence, said "If the government wants me, they have to put up with John Brown." He became the only person in her life whom she trusted completely. When he helped her secure her bonnet, he would say "Hoots, then wumman! Can ye not hold yerr head up?" Or, when he disapproved of a wrap she was wearing, he would ask her " What's this ye've got on today?" What others perceived as bold behavior was completely disarming to Victoria. The stories circulated at the Court about Brown's drinking made no difference to the Queen. To Victoria he was beyond any criticism.
To her public, the Queen was seen favorably by the friendly circumstances in which she lived with her servants in Scotland. In 1868 Brown accompanied the Queen on her visit to Switzerland. That she was going abroad at all was seen by her government as a good thing: she might even be persuaded to go out in her own country! But the rumors would not stop. It was even published that she was going to Lausanne in order to give birth to Brown's child. That the Queen was fifty years old and didn't even go to Lausanne, but went to Lucerne with three of her children, seem to make no difference to the rumormongers who wished to discredit her. The Queen's party was not difficult to notice. Besides her three children, Louise, Beatrice and Leopold, she was accompanied by secretaries, cooks, maids, other servants and a chaplain. And Brown in his Highland costume made sure that crowds collected everywhere they went.

Even in Balmoral Brown had become a controversial figure. Knowing well the influence he had on the Queen, when it came to new legislature, Prime Minister Disraeli joked " I must first be sure that it has the approval of the two J.B.'s. He explained "John Bull ( the equiv. of Uncle Sam in the US ) and John Brown."
Her own family members tried to intervene and it was suggested that Brown should take a wife. A Miss Ocklee, who often danced with him at gillies' balls, was perhaps a likely bride. When she married someone else in 1873, Brown remained a bachelor. Finally the Queen made him an esquire, but the rank failed to protect him from family and courtier conspiracies to get rid of him. In early 1862 the Queen returned from St. Paul's. Brown was sitting as usual behind the queen on the carriage. At the gates to Buckingham Palace, a seventeen year old Fenian, Arthur O'Connor, made his way to the carriage door and pointed a pistol at the Queen. The ever watchful Brown leaped from the rumble seat and seized the would-be assassin by the throat. In the aftermath, there were renewed demonstrations of loyalty to the Crown. For the third time in the same week, Victoria rode out to the cheering of the crowds, with Brown behind her as usual keeping a watchful eye.
The Queen entry in her journal on the occasion of her birthday in 1871 reads "My poor old birthday, my 51st! Alone, alone, as it will ever be! But surely my dearest one blesses me."
Victoria seldom went to funerals, even to those of close relatives. But in October 1875, when John Brown's father died at eighty-six, she went with Brown to his father's house. She comforted the widow and presented her with a mourning brooch. In any case it was the custom in Scotland at the time for the landlord to follow one of his people to the grave. When her favorite Scots preacher, the Reverend Norman MacLeod, died, it was Brown who brought her the news. In December 1878 he was even selected by the family to break the news to the Queen that her daughter Alice, the Grand Duchess of Hesse, had died of diphtheria on the anniversary of Albert's death.


The Queen had become overweight and looked old and grey. The rumors had finally come to an end, and Brown's presence was accepted for the watchful care it truly was. Early in 1883 he worked seven days a week as usual despite chills and fever. He needed the help of another servant , Lockwood, as the queen had to be carried to her pony chaise. She had missed a step and came down hard on one knee, which was swollen. Guests had been invited on Palm Sunday to St. George's Chapel at Windsor to hear Handel's "The Redemption". The performance was canceled because the Queen was indisposed. Six days later, Brown served the Queen for the last time. He was ill with erysipelas, which covered the side of his face. Dr. Jenner was called to treat him. The Queen wrote in her journal, that he had a high fever and a bad night. She added "vexed that Brown could not attend me, not being well at all." The next day Brown was delirious, but it seems the Queen had not been told. She attended the christening of Prince Leopold's daughter in the Windsor chapel. Princess Beatrice took Brown's place beside her pony chair.
On Tuesday, March 29 John Brown died at 10:40 in the evening. Her son Leopold went to her dressing room and "broke the dreadful news to me that my good faithful Brown had passed away." It was a terrible blow to Victoria. To Vicky's eldest daughter in Berlin the Queen wrote "for 18 years and a half, Brown never left my side." Her wreath, sent to Scotland and placed on Brown's coffin, was "A tribute of loving, grateful and everlasting friendship and affection from his truest, best and most faithful friend Victoria R&I. She commissioned Joseph Boehm to erect a statue of Brown at Balmoral bareheaded and in Highland garb. Lord Tennyson prepared the inscription:
Friend more than Servant, Loyal, Truthful, Brave,
Self less than Duty, even to the grave.
---
If you would like to read more entertaining and educational stories
like the one you've just read, then check out

!
---