---



---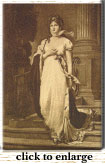 Generous to the Tsar, Napoleon was merciless to the Prussian King who had broken his alliance with France to join her enemies. Fredrick William III was required to surrender all Prussian territory west of the river Elbe, the Grand Duchy of Berg and and the kingdom of Westphalia. Nearly all of Prussian Poland went to the Grand Duchy of Warsaw, except Danzig, which was made a free city under a French garrison. What was left of Prussia was to close its doors to British trade and was to join in war on England if called upon. It also was to be occupied by the French forces until a heavy indemnity had been paid in full. Frederick William, who had not wanted the war, was stunned by these terms.

Luise went to see the French Emperor and appealed to Napoleon to soften his demands. Her friend Alexander had told her of Napoleon's comment "the Queen of Prussia is very charming. One would like to lay a crown at her feet instead of taking it away."

On that day Luise looked truly regal and beautiful. When Napoleon in his old uniform stood before her, she could hardly believe that this little insignificant man had inflicted so much misery on her country. He tried to divert her attention and asked where she had this magnificent gown made. However, Luise did not let herself be bluffed. "Sire, we have met to dicuss important subjects." She succeeded in impressing the man before her. Possibly he would have succumbed to the irresistible charm of her feminine beauty had not his policy been his dominant thought. Luise tried again and again to change Napoleon's mind. She went so far to humble herself and begged for mercy on behalf of the Prussian people. But he remained steadfast in his demands and finally sent her away with polite refusals.
---



---
If you enjoy this story, visit
for more.
---