Childhood and early youth

The son of a wagon repairer, he was born on March 31st, 1732 in Rohrau, on the border of Austria and Hungary. He had a miserable childhood, and as he later recalled "with more floggings than food." From a very young age he showed a rare musical aptitude. Because of this, he received instructions in wind and string instruments, learned to read and write and studied the catechism. But for the most part he had to teach himself. Joseph listened and studied and little by little his ability developed. At age 8 he was recruited into the choir of St. Stephen's in Vienna, but was dismissed when his voice broke in 1749. Then a young man of 17, he all but starved during the next eight years, eking out a wretched existence, playing the piano at social functions and tutoring. Playing at many prominent places during these years, somehow his reputation grew, and in 1758 he was appointed musical director and composer for Count Ferdinand Maximilian von Morzin. Two years later he made the greatest single mistake of his life by marrying Maria Anna Keller. A daughter of a hairdresser, Joseph was really in love with one of her sisters, but was most likely talked into marriage by the Keller family. Maria was three years older than Joseph, an unattractive girl, ill- tempered and jealous. She did not like music, was a poor housekeeper and could not manage money. Joseph became quickly disenchanted and turned elsewhere for companionship.




His career with the Esterhazy family
In 1761, Haydn entered the service of the Esterhazy family as assistant conductor. Prince Paul Anton Esterhazy was head of the greatest and richest family in Hungary and was a lover of music and the arts. His castle at Eisenstadt had 200 rooms just for guests and had also several theaters.

Haydn moved in and served only one year with Prince Paul before he died in 1762. He was succeeded by Prince Nicholas, who promptly built a new Palace, "Eszterhaza." It was completed in 1766 at the cost of millions and was the greatest Palace in Europe except for Versailles and contained a 400-seat opera theater. The Empress Maria Theresa was known to have said if she wanted to hear good opera, she went to "Eszterhaza." In 1766 Joseph became head conductor or Kapellmeister, when Werner Haiden died. It was a lot of work, as he had to direct the orchestra, compose the music, do all the administrative duties and had to hire and fire the musicians. He got along well with the Prince and his men adored him, calling him "Papa." Prince Nicholas was an ardent music lover and played the baryton, an instrument now obsolete, and related to the cello. Haydn composed almost 200 pieces for the Prince's favorite instrument.

Haydn loved his life at the Palace, where he was cut off from the outside world and could concentrate on his music. There were two weekly concerts, on Tuesday and Saturday from 2 to 4 in the afternoon, for which he supplied the music. He was also in charge of the opera performances, and the Palace saw a total of 125 performances in 1786. H.C.Robbins Landon, the foremost authority on Haydn, estimated that between 1780 to 1790, Haydn conducted 1026 Italian operas. It was hard work, but he was well compensated. He had a good salary, a maid, a coachman, a carriage and horses, and he lived in one of the most beautiful showcases in all Europe. He found time to pursue his favorite pastimes of hunting and fishing.




Haydn meets Mozart

In 1781, Joseph Haydn met the twenty-five year old Wolfgang Amadeus Mozart. Both men admired each others work. From Mozart he got new ideas about organization, about key relationship, and above all, expressive possibilities of music. It is certain that being exposed to Mozart's influence, Haydn's music became broader, deeper and more expressive. Mozart too learned a great deal about structural organization from Haydn. By the time they had met, Haydn was already one of the most famous composers in Europe. The reviews from this time tell us that "his compositions have beauty, order, clarity and a fine and noble simplicity." Whenever they could, the two men met in Vienna and played chamber music. Because of this, Haydn's quartets became more intricate than before.

In his "Russian" Quartets of 1781, he wrote in a new style. These quartets, Opus 33, were called "Russian" because they were dedicated to the Grand Duke Paul, son of Catherine II (the Great). Haydn seldom gave a title to a composition beyond calling it a symphony or quartet, with an opus number. But to keep the individual works clear in people's minds, various nicknames have been adopted. The "Bear" Symphony was given this title because the last movement suggests a clumsy dance by a bear. The "Queen" was a symphony liked by Queen Marie Antoinette of France. The "Razor" Quartet was given to an Englishman in exchange for a razor. In the "Lark" Quartet the first violin flies high above the three lower strings. The twelve "London" Symphonies and the "Oxford" Symphony were all written within the period of a few years. No composer except Mozart ever turned out so many great works in so short a time.




The death of Prince Nicholas

Prince Nicholas died in 1790 and this brought about a great change in Haydn's life. Prince Anton became head of the family, and he was not very interested in music. He dismissed the orchestra and only kept Haydn and a few musicians. As there was not enough work to keep him busy, Joseph was free to go where he wished, he moved to Vienna. Late in the year 1790 he accepted an offer to appear in England. He arrived there on January 1, 1791 and took London society by storm. He remained for eighteen months, during which he received an honorary doctorate from Oxford and romanced Mrs. Rebecca Schroeter, the widow of a well-known pianist. He made a second journey to England in 1794, and remained there until August 15, 1795.




Return to Eszterhaza Palace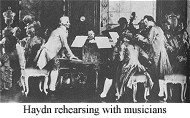 After returning from his second visit to London, he found that Prince Anton had died. The new head of the Esterhazy family, Nicholas II, wanted to rehire the orchestra, but mostly for church services. Haydn agreed and composed a series of great masses, but had time on his hands. Having been impressed by "God save the King" in England, he composed the Austrian National anthem, titled "Gott erhalte Franz den Kaiser" (God save the Emperor Franz) by Leopold Haschka, who wrote the lyrics. It was sung the first time on February 12, 1797, in all theaters in Vienna and the provinces. Later that year Haydn used the theme for a set of variations in his C major Quartet ( Op.76, No.3 ) which was promptly nicknamed the "Emperor Quartet." He wrote six masses between 1796 and 1802 which are big dramatic works that use instruments as well as voices. They include fanfares of trumpets, rolls on drum kettles, and other almost operatic touches. In his "Mass in Time of War", one can feel the alarm of the Viennese over Napoleon. In 1798, Haydn's "Creation" debuted at a private concert in Vienna and it was an instant success. It was soon performed in the major cities. His health began to fail, but his strong peasant's body resisted illness. He worked on the "Seasons" carefully, writing and rewriting. It was performed in 1801 and it too was a great success. But it was his last big work. He retired from Eszterhaza Palace in 1802.




The last years

Joseph Haydn moved to Vienna and lived there quietly, one of the most celebrated men in Austria. His wife had died in 1800. He himself was plagued by Rheumatism to the extent that his swollen legs prevented him from walking. He had many friends and colleagues, and he liked to sit at home enjoying their visits. It was his last musical act when they carried him to the piano, where he played the Austrian anthem three times. He died two days later, on May 31st, 1809, after his beloved city of Vienna was taken by the French troops of Napoleon Bonaparte, who, however, placed a protective guard around Haydn's house. Many French officers as well as the Vienna nobility attended his funeral. They played Mozart's Requiem, which would have pleased Haydn very much.




His music

Joseph Haydn's reputation has suffered because his music is so clear that even many musicians have thought it childishly simple. Yet his music served to inspire Mozart, Cherubini, Beethoven, Schubert and Brahms. During the 19th century very little of Haydn's music was played. After World War II, it was suddenly realized how significant a creator Haydn was and how wonderful his music really is. His greatest technical contribution was his consolidation of sonata form. In his early years he wrote tuneful music with little development, arias for instruments, as it were. But as he developed, he worked out the sonata principle better than anybody else in Europe. Sonata form is essentially contrast and development. After the themes are put through their paces, the recapitulation brings back the two original themes, which rounded out an arch. Haydn invented none of this, but no composer in Europe refined the principle better. Standard listings give as his accomplishments: 104 symphonies, 83 string quartets, 52 piano sonatas, many concertos, various chamber music, a large number of choral pieces, 23 operas, songs, 4 oratories and many masses. All of Europe knew him for the master he was. In the 1790's, Haydn went through the "Sturm und Drang" period, a time where creators tried to express a more personal feeling, a pre-romantic urge. "Empfindsamkeit" it was called in Germany and Austria. In those years Haydn composed music in unusual keys: F-minor, E-minor, F sharp minor and B-major, all "romantic keys." His choice of keys is even more adventurous than Mozart's, although Mozart's is more adventurous within the key. Haydn's later music contains even more anticipation of romanticism. But above all, there is a direct, clear, good-natured and sensible view towards life and art. Haydn once wrote "Since God has given me a cheerful heart, He will forgive me for serving Him cheerfully."

Such a man was Franz Joseph Haydn.



References

The Lives of the Great Composers, by Harold C. Schonberg. W. W. Norton & Company Inc. New York , 1970.

The Golden Encyclopedia of Music, by Norman Lloyd. Western Publishing Company Inc. New York , 1968.


---